Modeling of biological evolution
Evolution of gene regulation as a stochastic process: Savageau's demand theory, cost of regulation and noise
Sonata Bis project no. 2016/22/E/ST2/00558, financed by the National Science Centre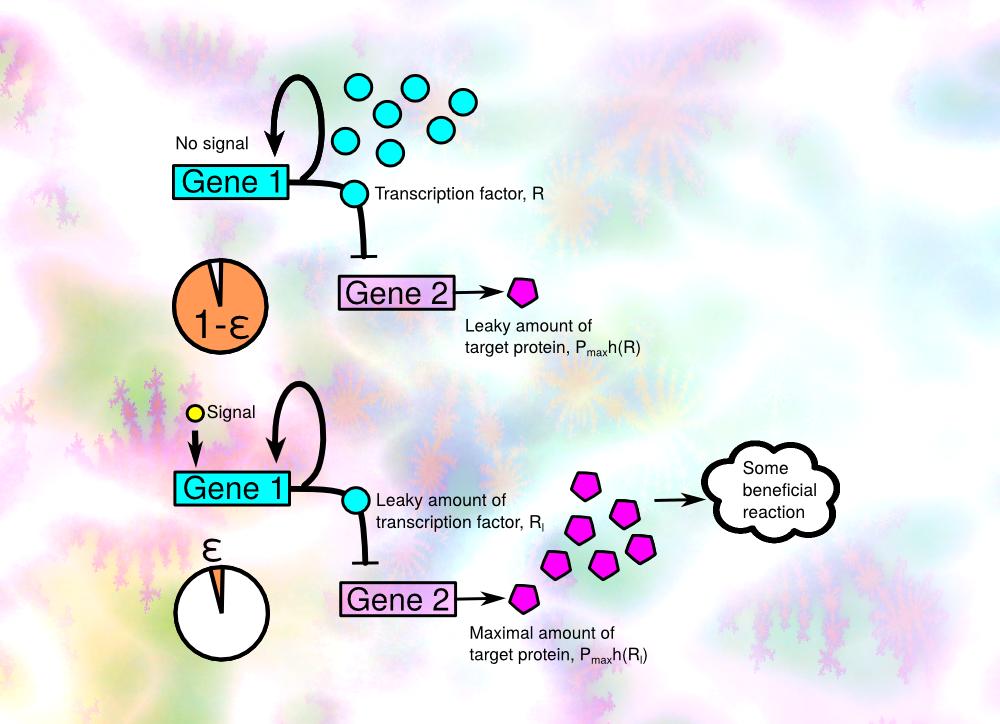 The "demand theory", formulated by the M.A. Savageau in the 70s, explains the evolution of positive or negative gene regulation by the frequency of demand for a given protein and sensitivity of genes to mutations.
However, in recent years, with the advent of systems biology and its tools, new studies began to appear, questioning the universality of the theory and extending it with new criteria. Since even a genetically uniform population of cells is subject to random fluctuations in gene expression, a phenotypic diversity exists in such a population.
We want to see how taking into account the costs of regulation and random fluctuations in the concentrations of transcription factor complements the classic Savageau's demand rules?
The project is theoretical – we use the tools of statistical physics and the theory of stochastic processes – but it will deliver experimentally testable predictions and can encourage biologists to carry out new types of evolutionary experiments, focusing on the role of randomness in gene expression. In the long term, understanding the evolution of phenotypic diversity is crucial in the struggle against bacterial resistance to antibiotics, one of the most pressing problems of modern medicine.
---
Ph. D. student position available!
Deadline: 15.1.2018
Email me for more information!
We are seeking a Ph. D. student:
● With M.Sc. in physics, mathematics, theoretical chemistry, bioinformatics, computer science, or related areas.
● Depending on the educational background, with a good knowledge of fundamentals of chemistry or physics, at the academic level.
● With a good knowledge of programming.
● Good knowledge of statistical physics and/or theory of stochastic processes will be an asset.
The research studies in which the candidate is to participate:
Participation in the research project Evolution of gene regulation as a stochastic process: Savageau's demand theory, cost of regulation and noise (Sonata Bis project no. 2016/22/E/ST2/00558, financed by the National Science Centre, principal investigator: dr Anna Ochab-Marcinek).
The task of the successful candidate will be theoretical modeling of evolution of gene regulation (analytical and numerical calculations, simulations).


● Research stays are planned at IST Austria and University of Edinburgh
We offer the scholarship ~3000 PLN/month*4 years (sufficient for a decent standard of living in Warsaw)
+ a possible rise for a good academic record: additionally up to ~2000 PLN/month.
Please read carefully the official announcement of open position [pdf]. It contains detailed information about the requirements and conditions.
List of required documents: http://ichf.edu.pl/msd/IDS_required_documents.pdf (link to the personal questionaire: http://ichf.edu.pl/msd/Personal_questionnaire.xls ; link to the ready-to-use thesis proposal with the project description: PhD-thesis_proposal_AOM.doc)
Required language certificates for foreign students: http://ichf.edu.pl/msd/Types_of_documents_certifying_knowledge_of_foreign_language.pdf
Email me for more information!